A scout ticket gives you the basic information about a well in a condensed format. WellDatabase scout tickets have been used in a number of applications over the years.
The scout ticket is an old favorite, here's a quick look at what the report looks like.
Most of the info is pretty straightforward. State, county, current operator, and full well name on the top left. Well type, status, & API on the top right with the field name directly below. The location data will have information as related to how the particular state tracks wells. All will have lat/long, but some states will have section, township, & range while TX will have abstract, survey, section & block.
The link at the bottom of the ticket will take you directly to the well details for that well when used in a PDF.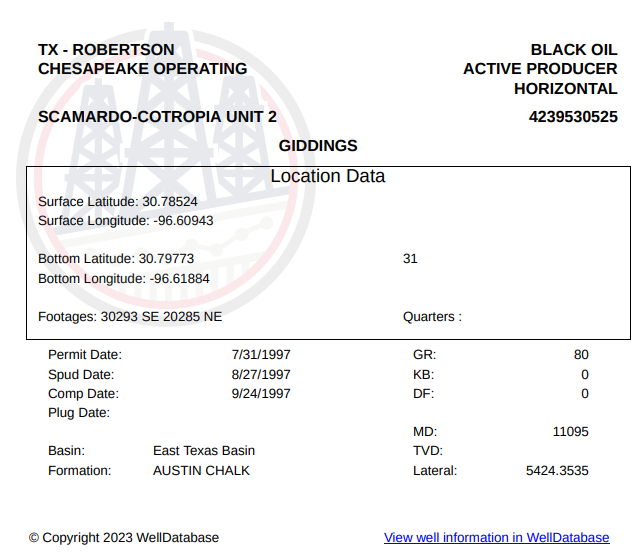 Scout Report for a single well:
There are a couple ways to generate this report. First option is from the well details page. With the well open, click on the report button.
From the report list, drop down and choose Scout Ticket.
That's it, the report system generates a PDF for you and it will download automatically.
Scout Report on multiple wells:
Note: This report will create a single page per well.
Sometimes you might want to generate scout tickets for multiple wells. You can do that by opening up the list view. From there, check your target wells, click the Reports button, then choose Scout Ticket as the report type option.
And again your report is generated.
Whether you're printing these scout tickets or just using them for a quick reference, they're an easy way get lay out the basic information on a well.
---
For more information on system generated reports, check out: How can I access a system report?