WellDatabase lets you search by just about anything. Some properties can be more challenging to use without some help. This is where our search helpers come in.
For this example, we'll use operators.
Operator names can vary significantly in how they are referenced. To search for operators, click the magnifying glass next to the Operator filter.

The top 100 results (by well count) are automatically returned.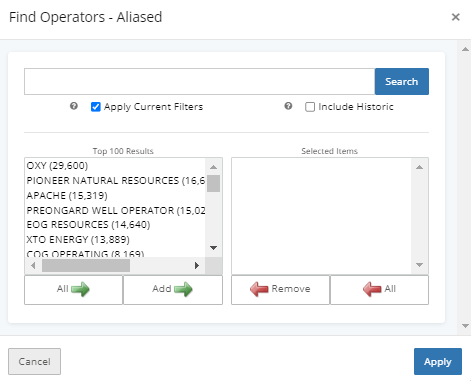 To search for a particular operator, just start typing in the search box. For this example, we're looking for Anadarko.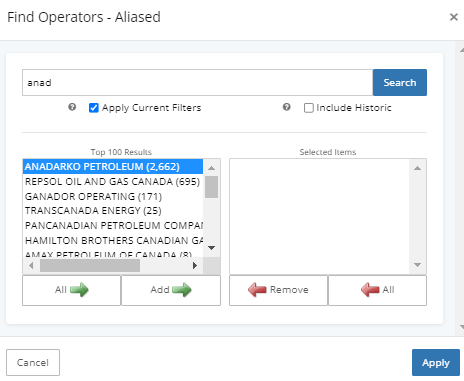 Make sure you select the results you are looking for and click the Add button at the bottom of the list. You can search for any number of operators. Clicking apply updates the map instantly.
You'll also see the selected operators in the applied filters.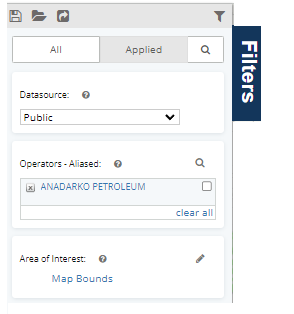 If you click the checkbox to the right, it will exclude the operator from the results.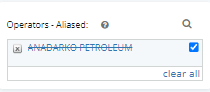 Of course if you click the x to the left of the value, the filter will be removed altogether.
This type of search helper is used for any of the filters with the magnifying glass in the filters pane.
Filters Helper
In addition to helping to find an operator, county, or other property more easily - We understand that there are a tremendous amount of filter options and sometimes they can be difficult to locate or they like to hide. By clicking the magnifying glass at the top of your screen, you can type in a portion of the filter name. Not only will you be taken directly to that filter, but also shown the main header where it can be found again in the future. Shown below, formations lives under the production header.